Kender's Siberians have been busy over the years
Kender has had the distinction of Being "First" at a number of things - take a look!
First Siberian Cat in Hong Kong (China) First Siberian Cat exhibited in Hong Kong!
We couldnt be happier that our boy made the super long flight to his wonderful new owners
Pictures and Video of his show posted on our blog
Ch. Karoline's Abakan of Furtuosity/Kender
Kender (& Furtuosity) were fortunate enough to import the very first golden Siberian into the US in 1992. This kitty - Caroline's Abakan of Furtuosity was also the first Siberian to EVER make the title of Champion in the US, under the newly accepted AACE standard.And what made her even more unique , is she was a completely different pedigree than the previous cats that had been imported - thus making her a critical and huge contribution to the US gene pool

photo below by Chanan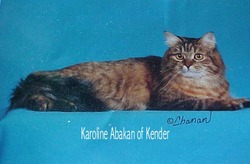 Ch. Kender's Deutsch Schwarzes Gold
Kender's Deutsch Schwarzes Gold
He is CFA's First Champion

He is the sire to CFA's First Grand Champion and Grand Champion Premier
This boy has a total of 6 CFA Grand Champions to his credit as sire! WOW!

photo below unknown photographer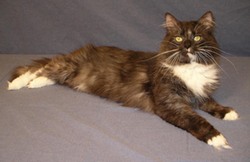 America's Most Titled Siberian
Kender's Golden Boy of Sibirskiy
"Ben" had the distinction of being America's Most Titled Siberin.
He is a CFA Champion
He is a TICA Supreme Grand Champion & Regional & National Winner
He is a UFO Grand Champion & Regional & National Winner
He is an ACFA Grand Champion
photo below by Helmi Flick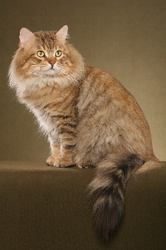 CFA Grand Sibirskiy's Russian Bear of Kender - pictured below
This boy is a first on several level's. He is the first Siberian I have shown to a CFA Grand. He is the first CFA Grand for his breeder as well. AND he made 3rd Best of Breed Siberian regionally (and 6th Nationally) for the 08/09 show season. Again - both first's for both Kender Cattery and Sibirskiy.
Kender can now say they have attained Grand status in every significant US Registry and then some ( CFA, ACFA, TICA, UFO, ACA)
Kender Faithful Servant aka Bella

was our first home bred CFA GRAND CHAMPION!!!!

Attained her Grand under 2 yrs of age.

A Beautiful young female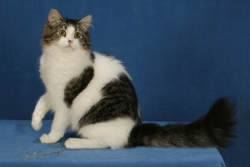 El Esse Chiaja's Hanka shown at her first CFA show - as a Premier(spay), at the ripe young age of 10 1/2 years old! This girl was an original import of mine from German y who is now loveingly retired to the Chaffee's in CA. Doesn't She look fantastic?????? And to top it off - won her Premeirship (aka Championship)
Well we couldn't resist breaking our own record held by Miss Tonks as the youngest Female Siberian to grand. Miss Anna just had to show up her older housemate by now raising or --- err - lowering? the bar by becoming CFA's 2nd youngest Female Siberian to Grand at just 10 months. Introducing Grand Premier Kender's Anna Maria.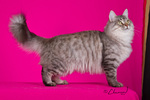 CFA Grand Kender's Don't Call Me Nymphadora!

Miss Tonks has attained her CFA Grand Championship in Dec of 2009 at just 2 weeks over the tender age of 1 year! WOW, simply amazing for a female, esp. in this male dominated breed!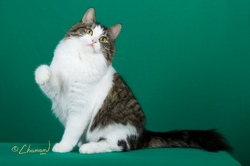 Below is CFA Grand Premier Kender's Run Out The Guns aka Gunner. Full littermate to our Anna. And a CFA REgional Winner