Siberian Cats Allergies And More
A little history and information on the Siberian Cat
Welcome - The Siberian cat is a very old breed in Russia and the Ukraine area. Only recently immigrating to the US in 1990. There are probably over a dozen websites out there that will give you all kinds of "tales" and "stories" including these cats being the guardians in monastaries. What is known is very little in fact. Science has proven that the long hair is a naturally occurring gene mutation that requires a double allele to occur , and that this first occurred in the very land mass/area where the Siberian hails from. So to my mind and thinking this makes them the "original" longhair, and all others followed after that.
This cat has a true triple coat that requires regular grooming. We recommend a metal comb - plastic, we have found tends to mat the coat causing all degrees of static electricity. A nice metal comb, such as the type made by Greyhound (tm) and simulated by several others (see picture below), is what we choose. And although females do not carry nearly as heavy a coat as the males, they do still require the same type of regular grooming. We however do NOT recommend the furminator or any of the knock off prodcuts out there like it.
I found this article most helpful for those looking to groom their Siberian cat at home.
As a small hobby breeder, we love to show our kitties. We currently register and show in CFA, & TICA. We have had regional, national and breed winners in CFA, TICA & UFO, as well as in TAIGA, an independant breed club.
We are America's oldest still active exhibitor, having first imported the breed in 1992. Since then it has been our love and devotion!
Please visit our Available Kittens/Kitties page for possible kitties that might be available. Then email us! TheSiberianCat@yahoo.com
2007 breed council member
2008 breed council member
2009 breed council member
2010 Breed council member
2011 Breed Council Member
2012 Breed Council Member
2013 Breed Council Member
2014 Breed Council Member
2015 breed council member
2017 breed council member
2020 breed council memeber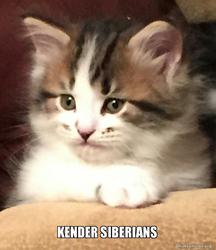 The Siberian & Allergy Sufferers
First, no animal is ever "non-allergenic". These are living creatures. We have found, through over 2 decades of experience, that it is 50/50 odds. Those who might have mild allergies, nasal drip/eyes red and watery seem to do very very well with this breed. Those with more severe allergies, such as hives, swollen membranes etc, although they fair better than before, do still react in some way. Many find this an acceptable solution to their allergy in their search for a cat companion. One thing we have noted is specifically, people with immune related disorders, such as Lupus, do still react and with no noted lessoning of symptoms.
We always recommend for allergy sufferers, never EVER to let the cat sleep with you. Use Hepa(tm) filters in your air conditioning, vacuum, and individual rooms; use a hypoallergenic soap in the laundry and wash things often. And ventilate the home well. A closed home allows for a buildup of potential allergens.
At no time, do we guarantee any animal to be non-allergenic
We do highly recommend you view the Dr. Oz's Video from his show about pets and allergies, and see his very own Siberian cat! Yes, he owns a Siberian cat! How cool is that?
http://www.doctoroz.com/videos/pets-and-allergies
Also - view this brief video about the Siberian and allergies.
http://www.ehow.com/video_4951163_adopt-siberian-cat.html
Also - watch this series of youtube videos for a bit of what you can expect at the vet!
http://youtu.be/KawyIgXu6XA
Please note - We are NOT a petting zoo. If you wish to test for allergies email us about meeting in YOUR home, not ours.